Wingsurfing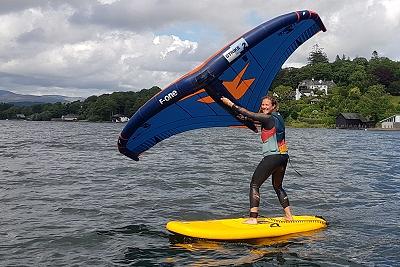 Wingsurfing Lessons
Experience one of the most exciting and cutting-edge water sports to arrive on our shores!

Discover the world of wingsurfing, the gateway to wingsports, where you utilize a handheld inflatable wing to generate power and propel yourself on a stand-up paddleboard (SUP), windsurf board, or a dedicated wingsurf board. This sport is a fantastic addition for SUP enthusiasts who are seeking to add some variety to their adventures and let the wind take charge. It serves as a smooth transition into wind sports, requiring less equipment to manage compared to windsurfing and kitesurfing.

Courses: Ghyll Head is an RYA recognised training Centre for Wingsurfing. We can offer the Learn to Wingsurf and Improving Wingsurfing courses (usually 4 hours each course) We can also offer taster 2 hour lessons for those wanting to dip their toes (or more) into the water with the sport. All of our courses have safety boat cover and take place from our boathouse on the shores of Windermere.

Experience needed:  No water or windsport experience is expected for those taking part in taster sessions or Learn to Wingsurf courses. Being confident in the water wearing a buoyancy aid is important however, this is a wet sport!

Kit Needed: Ghyll Head will provide the board, wing, buoyancy aid and helmet. We also are able to supply a long john wetsuit and cagoule if required at no additional cost. You will need to bring along a complete change of clothes, towel, a warm core layer such as fleece top, if using our cagoules and a pair of old trainers or footwear you don't mind getting wet.

Ratios: Our RYA courses run on a 1 instructor to 2 student ratio unless private tuition has been arranged. Taster sessions run with a maximum of 4 students with 2 students sharing 1 board and wing at a time.

Cost: 
Group Learn to Wingsurf/ Improving Wingsurfing £100 (Min 2 places)
Private Learn to Wingsurf/ Improving Wingsurfing £150 (1 to 1)
Group Taster Lesson £75 (Min 2 places)
Private taster Lesson £130 (1 to 1)

Lesson Dates: Lessons and courses are run on a request basis. Please contact the Centre to register your interest.