PodVillage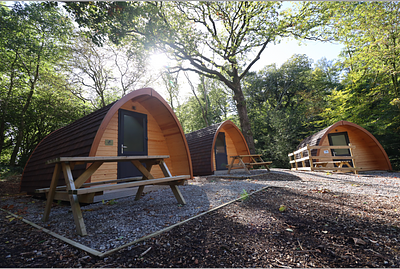 Great for exploring or simply relax and chill out
Our self-catered pods are a great alternative to traditional camping - great for those not overly confident at pitching a tent and are ideal for couples and families and can sleep up to 5 people. Two of our Pods are also four legged friendly.


Our camping pods are located in their own woodland area in which you can relax and enjoy the peaceful surroundings. On site you will also find an exercise field and an outdoor campfire area.
Amenities
Our Camping Pods have:


·         Comfy single beds with mattresses
·         Under bed heating
·         2 plug sockets and 2 x 5v USB charging points
·         LED lighting
·         Lockable doors
·         Outdoor seating/picnic bench
·         Parking within the site


Guests however, will need to bring their own bedding or sleeping bags. The mattresses take a standard 3ft sheet.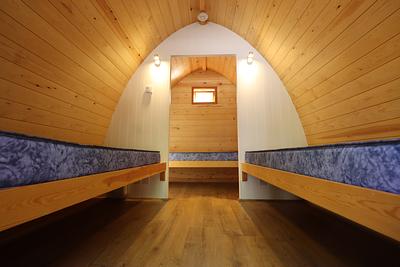 Take a look at what's waiting for you.....

Community/Educational Booking
Community & Educational groups are welcome here at the Hive Pod Village with availability to book part of the site or have exclusive usage of the Hive. With up to 40 beds this is the ideal place to book a self-catered stay.


Price subject to time of booking.
Onsite Activities
Within The Hive Pod Village we have The Buzz, our Community Room which is also available to Pod visitors to enjoy if not privately hired. The Buzz is a dry comfortable space where you enjoy your mealtimes, play a board game, or read a book. 
Please note that we are unable to offer access to Activities to Pod Village bookings. These are available only to our education residential visits
Offsite Activities
We are currently unable to offer activities with Pod Village bookings however there are many activity providers in the local area, they are listed below is a list of local providers


Watersports 
Crazy Golf/Tennis Courts 
Swimming Pools & Leisure Centres 
Mountain Bike Hire 
High Ropes Trails & Ropes Courses 
Rock Climbing 
Kitchen & Shower Facilities
Toilet and shower facilities are available within The Pod Village, just a short walk away from the accommodation. All our toilet & shower facilities are heated, with sinks, mirrors, & bins.


You can prepare your own food in our well-equipped heated Kitchen area. You'll find;


·         Microwave
·         Fridge & Freezer (Please label & date any food left in there)
·         Kettle
·         Toaster
·         Indoor and Outdoor Sinks for washing up


We ask that stoves are not used inside the building however the area adjacent to the wash-up area has tables that can be used to seat stoves (not BBQs)
Pod Village Etiquette & Rules
The Hive Pod Village is a small family friendly site catering for those wanting a quiet break away. To make everyone's stay an enjoyable one we ask that guests adhere to a few common sense rules.


Children under 18 must be accompanied by an adult 
No customer under 18 consumes alcohol 
We ask customers not to smoke where not permitted, or in any way to cause a fire hazard. Smoking is not allowed in any Pod, community building or facilities block room.
Stag, hen or birthday parties in general are not allowed unless a prior agreement has been made in writing with the Centre. 
BBQs must not be placed on decking, picnic benches or grassed areas. Please place BBQs on raised stands or gravel areas. All BBQs must be cold before disposing of.
Other than the dedicated campfire site, open fires and fire pits are not allowed onsite.
No loud music is to be played on site and all customers must be quiet after 11pm to allow fellow visitors to sleep. 
Dogs must be kept on a lead at all times onsite. Dog walking is not available onsite however there is a public footpath leading onto Rosthwaite Heights not far from the site entrance. All dog poop must be bagged and binned. 
Guest Information Sheet

Further useful information, including a map of our site can be found in the following
document download
How to Find Us - the postcode for your Sat Nav is LA23 3LN
By Road
The Centre is situated on the eastern side of Lake Windermere, about three miles south of Bowness along the A592 to Newby Bridge

The Postcode for your Sat Nav is LA23 3LN (Please check your route is taking you via either Bowness or Newby Bridge as the back road route on some navigation software sometimes takes you through a deep ford)

The grid reference for the Centre is S.D. 394928 

From the South:


The easiest approach is to follow the M6 to junction 36 and then turn left onto the Kendal by-pass for the Lakes.


Turn left off the A591 at Windermere and down to Bowness. Follow the A592 towards Newby Bridge, passing the Ferry turn-off and Storrs Hall Hotel.


After the hotel the road rises well above the level of the lake and after half a mile passes a road junction on a sharp bend.


Three hundred metres beyond that is a minor road junction marked by a red post box and the finger post sign to "Ghyll Head Outdoor Education & Activity Centre" and "Cartmel Fell - Fell Road Only"


Turn up this minor road and, in 250 metres on the right, the entrance to the Centre is reached. Visitors to The Hive Pod Village  signs will direct you to your dedicated entrance and car park.
If you see the Beech Hill Hotel on your right-hand side, you have missed the road junction and must retrace your route for a half mile.
By Rail
The nearest train station is
Windermere
, which is served by Northern Rail Services
Emergency Contacts
If you need assistance with your booking we have a number of options for you:


In the first instance please call the Duty Staff Member on: 07785587745
The Main office is open Mon-Fri 9-5pm: 015394 43751

If you have no joy on the numbers above and the call is urgent you can contact one of the Heads of Centre:


Julie: 07884242589
John: 07789215516