Wingfoiling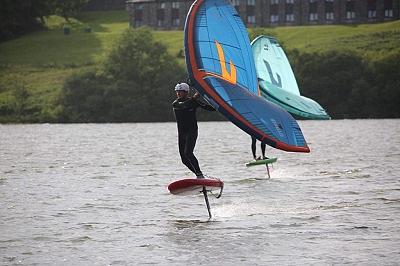 Wingfoiling Lessons
Experience the closest thing to riding a magic carpet with wingfoiling! It's the natural progression from wingsurfing, utilizing a high-tech hydrofoil and a sprinkle of magic (well, physics!) along with expert tuition. With the skills you've acquired through wing handling, you have all the ingredients necessary to take flight on the foil. 
Wingfoiling has emerged as one of the most thrilling and captivating sports of the past decade. Whether you're a windsurfer or a kite surfer looking for something new, this activity is equally at home on waves and gusty inland waters. Even if you don't have a background in these sports, fear not! 
Through our wingsurfing courses, we can provide a solid introduction that enables newcomers to the world of windsports to get up on the foil in a relatively short period.

Courses: Ghyll Head is an RYA recognised training Centre for Wingfoiling. We can offer the First Flights and Sustained Flights courses. We normally offer these courses in 4 hour chunks, as we find certainly with the first flights that there is a lot of time spent in the water and this can get quite tiring. Course completion can usually be achieved within 8 hours .
We can also offer taster 2.5 hour private lessons for those wanting coaching as opposed to a certificate course.  All of our courses have safety boat cover and take place from our boathouse on the shores of Windermere.

Experience needed:  Participants must be up to the improving wing surfing level of ability and an initial assessment will be made of participants skill level before progressing to the foil.

Kit Needed: Ghyll Head will provide the board, wing, foil,  buoyancy aid and helmet. We also are able to supply a long john wetsuit and cagoule if required at no additional cost although a long sleeved full suit is recommended. You will need to bring along a complete change of clothes, towel, a warm core layer such as fleece top, if using our cagoules and a pair of old trainers or footwear you don't mind getting wet.

Ratios: Our RYA courses run on a 1 instructor to 2 student ratio.

Cost: 
First Flights/ Sustained Flights (4hr Duration) £225
Private tuition £185 (1 to 1) 2.5hr Duration
There is a £25 discount for participants using their own wingfoiling kit.

Lesson Dates: Lessons and courses are run on a request basis. Please contact the Centre to register your interest.