Jobs
The latest Job Opportunities at Ghyll Head
Centre Cook
Full Time
Based: Ghyll Head
Salary: £26,955.06 per annum (pro-rata based on 39 hours a week)
Accommodation: There is the possibility of basic accommodation being made available. 
Closing Date:24th August 2023
We're looking for a qualified and experienced Cook to join our catering team.
The role involves:
•        Planning menus and undertaking preparation, cooking and serving of food in accordance with environmental health standards, in order to provide healthy and nutritious balanced meals and snacks for children.
•        Providing high standards of hygiene and care in food preparation, storage and serving.
•        Meeting the individual dietary requirements for customers, taking account of food allergies, medical conditions, and cultural needs.
•        Providing good quality, affordable, healthy, home cooked food to a wide variety of centre users, visitors and staff in a warm, welcoming and friendly environment.
•        Supervision and direction of catering tasks and domestic staff.
You will already be experienced in catering / hospitality and with a working knowledge of legislation relating to catering venues, you'll understand everything from event catering to day-to-day kitchen work. You'll ideally have a relevant level 3 qualification. It is essential that you have a Basic Food Hygiene certificate. With front-of-house experience, you'll be a great people-person, inspiring your colleagues as well as welcoming our customers.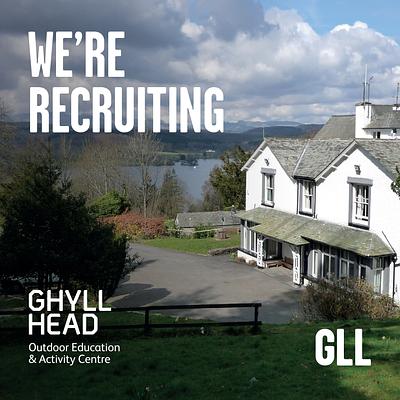 Freelance Outdoor Activities Instructor (Flexible Worker)
Freelance Outdoor Activity Instructor (Flexible Worker)
Based: Ghyll Head Outdoor Education & Activity Centre
Salary: £16.55 per hour (£18.55 including A/L)
Closing Date:30th July 2023

We are seeking to recruit freelance outdoor instructors to deliver  high quality outdoor activity experiences for our schools and youth groups, most of whom come from the city of Manchester. Our main focus here is to provide inclusive and fulfilling experiences that challenge and help explore potential; where young people learn about themselves, each other and the environment and come away with positive, life long memories and hopefully a desire to venture into the outdoors again.

You will have Experience/Qualifications/Training


·         A minimum of three years experience as a full time outdoor education instructor 


You will hold all of the following qualifications:


·         Mountain Leader Award (Summer)
·         Paddle sport coaching award, BCU L2, UKCC Level 2 UKCC Open water endorsement or equivalent
·         Rock Climbing Instructor/SPA 
·         Powerboat Level 2
·         Current 16 hour first aid certificate
·         D1 Driving licence that permits the driving of minibuses
Desirable


·         Dinghy Instructor
·         Local Cave Leader Level 1
·         Stand Up Paddleboard Open Water leader
·         Safety boat certificate
What we will offer you:-
•         Excellent  support and training
•         Opportunity to join a hardworking and experienced team
•         Lunches provided