News
The latest news from Ghyll Head
June 2023 - The Hive Pod Village is now on Booking.com!
We are delighted to announce that you can now find the Hive Pod Village on
Booking.com
!
Simply search 'The Hive Pod Village, Ghyll Head' with your selected dates to book your next trip. 
We appreciate all of you continued support,
the Ghyll Head Team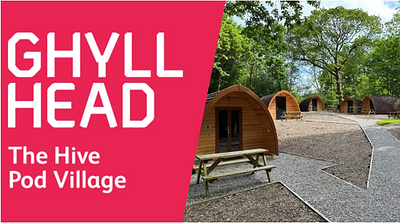 May 2023- Manchester Outdoor Education Trust Fundraiser Events
MOET is raising funds to support disabled children and young people to access Outdoor Adventurous Activities. Money raised will go to extending the ropes course at Ghyll Head and to adapt a sailing dinghy at Debdale Outdoor Centre. They have organised two exciting events that are open to anyone who wants to donate to a good cause and have some fun!

On Saturday 1st July at Ghyll Head Outdoor Education & Activity Centre the first challenge will be taking place. The challenge includes canoeing down Windermere from Ghyll Head and a hill walk back to the Centre. Kit will be provided, and activities led by qualified Instructors. If you would like to stay over at Ghyll Head for the social evening of food and entertainment, you can do so at a reduced cost of £25 per person, covering accommodation, breakfast, and a contribution to food on Saturday evening.

the second challenge will take place on Saturday 23 September at Debdale Outdoor Centre. We are looking to recruit teams (each team with 4 – 20 people) to compete in a dragon boat race. No experience needed and tuition provided by a qualified instructor.

To reserve a place for either of these events or to find out more information please email manchesteroutdooredtrust@gmail.com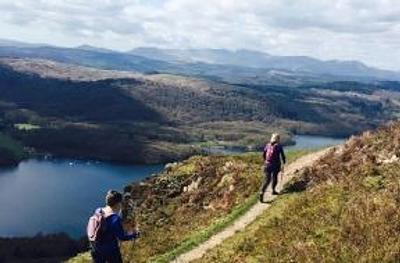 September 2022 - Our brand new Low Ropes Course officially opened
The Lord Mayor of Manchester, Councillor Donna Ludford opened our brand Low Ropes course at Ghyll Head Outdoor Education and Activity Centre on Friday 23rd September, the final installation in the overall £1.5 million investment project carried out at the centre over the last 18 months.
The main contributor and spearhead for the Low Ropes course project was Jeff Seneviratne with additional funding from Manchester Outdoor Education Trust (MOET), the We Love Manchester Charity and Manchester City Council.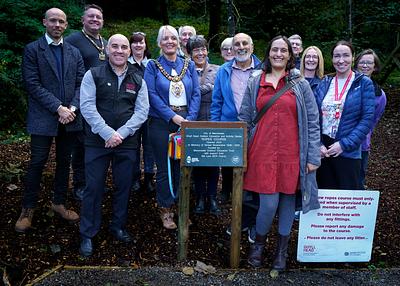 July 2022 - Join us for Manchester's Outdoor Team Challenge
We're proud to be hosting the Manchester Outdoor Team Challenge here at Ghyll Head on the 8th and 9th September 2022

The fundraiser for We Love MCR and Manchester Youth Zone will see teams of 6 to 8 taking part in a range of challenges testing their physical, mental and team building endurance.

To find out more email gerard.carter@manchester.gov.uk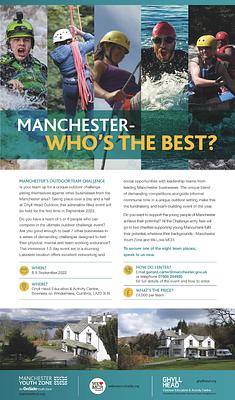 April 2022 - The Hive Pod Village Opens
We're delighted that our brand new Pod Camping Village - The Hive - is now open for private individual bookings.  You can now enjoy a breakaway in one of our 9 heated pods which are nestled in our woodland area here at Ghyll Head. Pods can sleep up to 5 and some are pet friendly meaning all of the family can enjoy a visit!

Schools and groups can also now enjoy the experience of our Pod Village as part of residential stays - just speak to one of our friendly team amd they'll be able to talk through the options with you.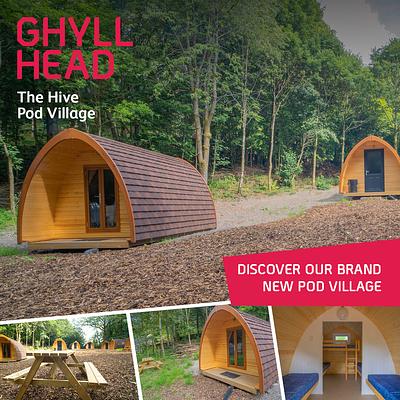 December 2021 - The Kath Fry Challenge Returns
We're very much hoping to re-introduce the Kath Fry Challenge, our Inter Schools competition for Year 9 and Year 10 children, in January 2022 and schools have been contacted with details of this much loved event.. 

Challenges will take place on the following weekends - 7th to 9th January, 14th to 16th January and 23rd January 2022.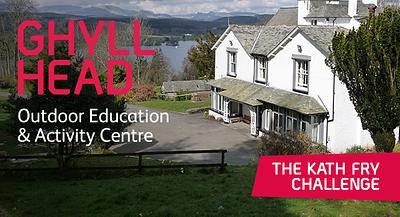 July 2021 - The Lord Mayor of Manchester officially opens The Hive
We were delighted to welcome the Lord Mayor of Manchester, Councillor Tommy Judge along with the Lady Mayoress, to Ghyll Head on 6th July to officially open The Hive, our brand new woodland camping Pod area. It was a very special day for us as we got to showcase the huge investment works that have been carried out at the centre as part of the £1.5million project, including the complete refurbishent of the Main House.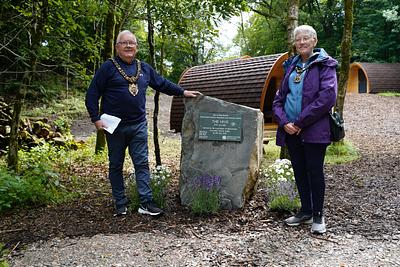 June 2021 - Our £1.5 million refurbishment is nearly complete!
The centre is undergoing a huge £1.5 million refurbishment project, which we started earlier this year. New and old visitors will love what we've done! Thanks to funding from Manchester City Council you'll soon find:


Modernisation of the main house to provide modern facilities 
Improved lighting and heating systems to support reduction in energy/costs 
New boilers, roof repairs, water heaters and LPG tanks
Full redecoration inside and out 
New beds bedding, furniture and soft furnishings
Brand new PODS, with a brand new toilet, shower and cooking cabin 
New community cabin for use as a flexible space
Bunk house with toilet and shower 
Lighting and power to pathways and community spaces
Replacement road barriers and repairs to walls
Ground Maintenance to all areas  
New and improved safety boat fleet
New equipment for school use such as outdoor wet weather wear
New gardening equipment 
New external signage to main entrance of house and boat house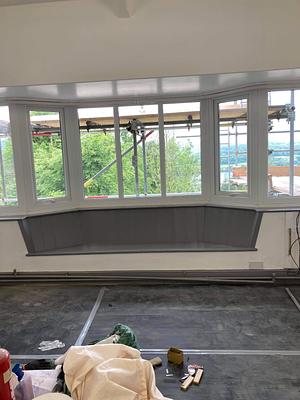 June 2021 - SEND Half Term Camps
After what seems like forever, we were finally able to welcome back our fabulous SEND camps during the late May Half Term. Our SEND Camps are always incredibly popular and thanks to generous funding from Cumbria County Council we were able to offer funded places to local families.  

Our families enjoyed a huge range of activities including:
Canoeing
Kayaking
Archery
Lakes Visits
Zip Wire 
Climbing 
The weather was glorious, there's no better place to be than stunning Windermere at the best of times but just look at that sunshine!

We're not quite sure who had more fun - our team who were delighted to be back doing what they do best, or our fabulous children and their families.