Low Ropes
Our brand new Low Ropes Course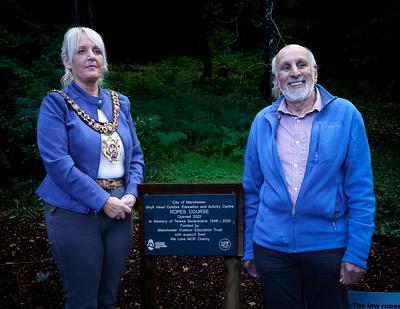 Our new course was officially opened in September 2022 by the Lord Mayor of Manchester, Councillor Donna Ludford, pictured here with Jeff Seneviratne. Jeff was the main contributor and spearhead for the Low Ropes course project with additional funding from Manchester Outdoor Education Trust (MOET), the We Love Manchester Charity and Manchester City Council.

Jeff and his wife Teresa have been involved with Friends of Ghyll Head from its early days with both taking part in a range of adventurous fund raising activities and participating in skills courses run by Ghyll Head.  When MOET became aware that the old low level ropes course needed to be replaced they considered whether it was feasible to fundraise for it.  Teresa was diagnosed with Alzheimer's disease in 2014 and following a rapid deterioration over 2019 she died suddenly in early 2020.  In her memory Jeff offered a sum to start a MOET fundraiser for the new course.  This helped generate donations from family and friends as well as MOET supporters. It was suggested that MOET also put in a bid to the We Love Manchester charity, which was successful. 
I'm delighted to see the project come to fruition and know that it will contribute to the adventurous learning opportunities, which Ghyll Head provides for so many young people, for many years to come "
Jeff Seneviratne
Ghyll Head has been serving generations of Manchester school children for more than half a century now. The new low level rope course is a fantastic addition to what's already on offer at the centre and will help ensure that Ghyll Head continues to excite and transform young people's lives for years to come.
Lord Mayor of Manchester Councillor Donna Ludford